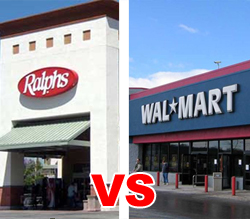 Americans still shop for groceries. They're just not doing it so much at supermarkets.
Supermarkets' share of U.S. grocery sales fell to 51% in 2011, down from 66% in 2000, according to UBS. One major cause: Big-box discounters including Wal-Mart Stores Inc. WMT +0.43% and Target Corp. TGT -0.78% are using food to reel shoppers into their stores, where they hope to tempt customers to buy more profitable housewares and clothing.
On Thursday, the stock price of Supervalu Inc., SVU -1.71% a 4,400-store chain based in Eden Prairie, Minn., plunged 49% after it said it was hiring advisers for a strategy review and suspending its quarterly dividend as part of a broad cost-cutting effort.
In an interview, Supervalu Chief Executive Craig Herkert said other retailers have realized food and household basics can drive traffic.
"The fact is, consumers have a wide range of sources for their groceries and that will continue, but our goal is to be relevant no matter what," said Mr. Herkert, a former Wal-Mart executive hired by Supervalu in 2009.
"In this economy, it's simply not acceptable anymore to have prices as far out of line as ours have been," Mr. Herkert said. "But getting prices 'right' for us doesn't mean we are going to become a discounter. It means we have to narrow that pricing gap."
In 2006, Supervalu acquired about 1,100 stores in Albertsons' portfolio, including Acme Markets, Jewel-Osco and other brands for $11.3 billion in cash and stock, making it the fifth largest food retailer in the U.S. by sales. But the debt made it harder to spend on store renovations and turn a profit.
Supermarket chains like Supervalu and Safeway Inc. SWY +1.33% have found themselves caught in the middle of the food retailing world. Affluent shoppers splurge on organic produce at Whole Foods Market Inc. WFM -0.67% Budget-conscious shoppers drift to discount chains such as closely held Aldi or dollar stores like Dollar General Inc. DG -1.09% "Supermarkets cannot continue to do the same things they did in 1990s and expect a different result than the one seen over the last 10 years," said UBS analyst Jason DeRise. Last year, Supervalu sold $37.5 billion of merchandise. But its margins were brutally thin—at just 4.9%—before it absorbed interest, taxes, depreciation and amortization costs. It ended up losing $1.1 billion in all. For decades, grocers chugged along, enticing shoppers with promotions and earning profits off of products sold at full-price. Now, households are stocking up at warehouse clubs such as Costco Wholesale Corp.'s COST -0.12% and are more likely to visit traditional supermarkets for specific deals, which means lower sales and thinner profits. While the big box stores have been expanding in groceries for a while, grocery sales lately have become even more important to Wal-Mart and Target as sales of once-profitable traffic drivers like CDs and DVDS have dried up.
"What's wrong with the U.S. supermarket business? Squeezed by Wal-Mart, high operating costs and thin margins, traditional supermarket chains are struggling to compete for consumers dollars. The latest casualty: Supervalu shares plunged 44% after putting itself up for sale and suspending its dividend."
Groceries accounted for 55% of Wal-Mart's $264.2 billion in U.S. sales in the year ended Jan. 31, 2012, up from 41% just four years ago. This year, the world's largest retailer invested $1 billion to lower food prices.
Target sells a full assortment of groceries only in its 250 Super Target stores, but fresh and expanded frozen food sections are now in 75% of the chain. Food accounted for 19% of Target's $68 billion in sales in 2011, up from 16% in 2009.
Despite Fresh Direct and other Internet-based grocery-delivery services, most people still prefer to touch and see fruits, vegetables and other fresh items at a store. "Food is the single most important traffic driver," said Paula Rosenblum, managing partner at retail research firm RSR Research. "It's a low-margin business but it's fast moving."
Grocers have reacted to the tougher times by cutting back on staff. Supervalu earlier this year announced layoffs of up to 2,500 store-level jobs at its Albertsons supermarkets in California and Nevada, as well as hundreds of corporate positions. The peelback in staffing has hurt service, said Jill Cashen, spokeswoman for United Food & Commercial Workers Union. Other chains have also suffered. Great Atlantic & Pacific Tea Co.—commonly known as A&P—emerged from bankruptcy in March, but is no longer publicly traded. Southeast grocer Winn-Dixie Stores Inc. was bought out by Bi-Lo LLC in December in a $560 million deal. Not all grocery chains are struggling. Kroger Co., KR +0.45% the second-largest food retailer after Wal-Mart, reported its same-store sales, a key indicator of retailer health, rose 4.2% for the quarter ended May 19.
Part of Kroger's success is built on culling insights from its shopper loyalty card data that has helped the chain move away from a one-size-fits-all approach, said Jim Hertel, a supermarket consultant with Willard Bishop LLC, based in Barrington, Ill. "You've got to be a lot more precise, by category, by section of the store, understanding the shopper behavior and who you are up against," Mr. Hertel said.
Part of the calibration is knowing which products grocers can price higher than Wal-Mart and not lose customers. On frequently purchased items like bread or milk, Kroger is priced about 8% to 10% higher than Wal-Mart, said Mr. Hertel. In contrast, he found that Supervalu and Safeway stores were priced 18% to 20% higher. "Traditional supermarkets have gotten too high in price, and when you get to that point, price does start to trump convenience," said Mike Schlotman, Kroger's chief financial officer. As the economy pulled out of the recession, Supervalu tried unsuccessfully to keep its prices steady to maintain its profit margin. It focused on a nation-wide strategy for store operations and marketing, which was criticized for stripping local feel from its many brands, which include Cub and Acme. It has also started expanding its private-label business, which offers lower prices for shoppers at a higher margin for the company.
U.S. edition of The Wall Street Journal contributed to this article.
Leave a Comment